Rich Reads at Low Cost with Browns Books and Maverick Publishing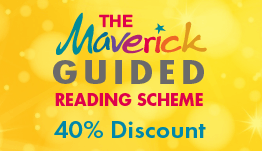 We have teamed up again with the fantastic team over at Browns Books For Students to bring you more Early Reader promotions, so enjoy 40% off your favourite readers and more online at BrownsBooks.
Maverick are dedicated to ensuring all of our Early Readers are produced with not just education in mind, but fun too! Beginning at Pink (level one) and advancing to White (level ten), our readers become a little more challenging as children progress in their journey to independent reading. Each band steadily increases in word count, word complexity with the later bands introducing chapters.  
If you would like any more information about our Maverick early reader scheme, visit our dedicated website: www.maverickearlyreaders.com 
We also provide free downloadable audio and activity packs, ensuring that reading is enjoyable for even the most reluctant of readers.