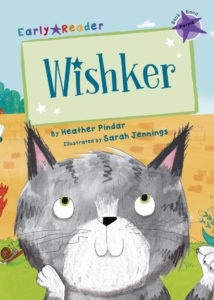 We've spotted a lovely review from Linda's Book Bag for new purple band Early Reader Wishker by Heather Pindar with illustrations by Sarah Jennings which was published just this week:
'I thought the range of punctuation was very skilfully handled so that question marks, exclamation marks and ellipsis are naturally exemplified enabling emergent writers to see how they might be used. There's a super use of language too with a little word play in 'Purr-haps' and great onomatopoeia, but with accessible and familiar vocabulary to give children confidence in their own writing and reading. The questions at the end of the book enable adults to check children's understanding and they provide a lovely opportunity for adults and children to discuss and share together.
There's a clear moral to the story too with Mirabel learning that you have to be careful what you wish for and not to be too greedy.
However, those educational elements aside Wishker is a smashing children's story in its own right. There's a great plot, with humour and relationships woven through it. The illustrations by Sarah Jennings are simply wonderful. They are bright, colourful and interesting. I can see that they would afford lots of opportunity for counting, identifying and sharing.
I thought Wishker was a smashing children's story.'
Thanks, Linda! Read the full review here and order a copy here.